Rates (as of January 1, 2017)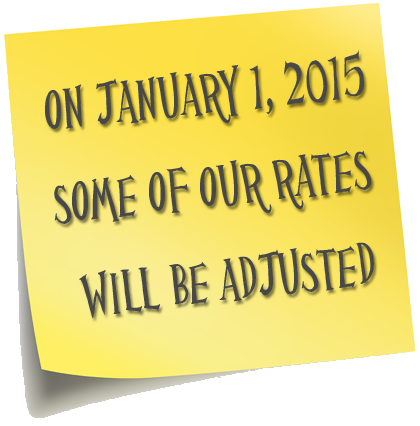 Chiropractic Therapy
Initial Visit & Assessment
$65.00
Subsequent Visit
$38.00
Acupuncture
Initial Visit & Assessment
$65.00
Subsequent Visit
$50.00
Cosmetic Acupuncture
Initial Visit & Assessment
$90.00
Cost varies depending on the nature and duration of the cosmetic procedure. Please contact us to book an assessment session.
Massage Therapy
15-minute Treatment
$31.00
30-minute Treatment
$59.00
45-minute Treatment
$71.00
60-minute Treatment
$83.00
75-minute Treatment
$99.00
90-minute Treatment
$117.00
Therapeutic Ultrasound can be included as a part of your massage treatment at no extra cost.
Myofascial Release Therapy
30-minute Treatment
$68.00
45-minute Treatment
$82.00
60-minute Treatment
$94.00
90-minute Treatment
$117.00
Custom Orthotics
Cost varies slightly depending on the nature of the orthotic.
Kinesio Taping
Single Treatment
$25.00
Adjunct to other services
$10.00
Shockwave Therapy

Benefit Plans
Most extended health benefit plans will cover full or partial costs of our services. Please check your plan to find out the details regarding your coverage. A doctor´s note may be required for massage therapy.
We are able to bill directly to many benefits payors, including:

Payment
We accept credit cards (Visa & Mastercard), debit, personal cheques and cash.



Rates include HST unless otherwise stated.

Cancellation Policy
Please give 24 hours cancellation notice, or, a $25 missed appointment fee may be charged. Appointment "No Shows" will be billed the missed appointment fee.

Late Policy
A client arriving late for their scheduled appointment may be charged the full scheduled appointment fee at the discretion of the RMT.
If the RMT is running late, they will accommodate, as best they can, to allow for the full appointment time with the clients consent.