Rates (as of January 1, 2017)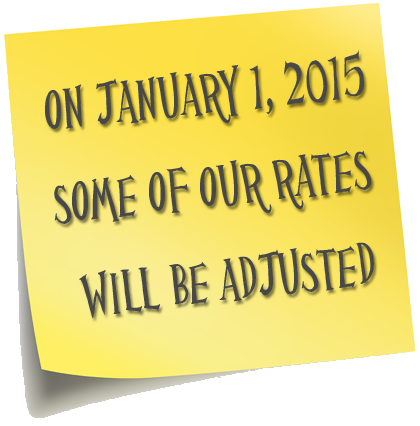 Chiropractic Therapy
Initial Visit & Assessment
$65.00
Subsequent Visit
$38.00
Acupuncture
Initial Visit & Assessment
$65.00
Subsequent Visit
$50.00
Cosmetic Acupuncture
Initial Visit & Assessment
$90.00
Cost varies depending on the nature and duration of the cosmetic procedure. Please contact us to book an assessment session.
Massage Therapy
15-minute Treatment
$31.00
30-minute Treatment
$58.00
45-minute Treatment
$70.00
60-minute Treatment
$81.00
90-minute Treatment
$115.00
Therapeutic Ultrasound can be included as a part of your massage treatment at no extra cost.
Myofascial Release Therapy
30-minute Treatment
$67.00
45-minute Treatment
$81.00
60-minute Treatment
$92.00
Custom Orthotics
Cost varies slightly depending on the nature of the orthotic.
Kinesio Taping
Single Treatment
$25.00
Adjunct to other services
$10.00
Shockwave Therapy

Benefit Plans
Most extended health benefit plans will cover full or partial costs of our services. Please check your plan to find out the details regarding your coverage. A doctor´s note may be required for massage therapy.
We are able to bill directly to many benefits payors, including:

Payment
We accept credit cards (Visa & Mastercard), debit, personal cheques and cash.



Rates include HST unless otherwise stated.

Cancellation Policy
There is no fee for cancellations and re-bookings made at least 24 hours in advance. In fairness to our therapists and to other clientele, clients who give less than 24 hours notice for cancellations or re-bookings will be charged the full rate for their missed appointment.